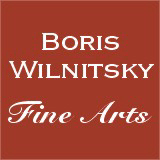 SALE!!! SAVE MONEY !! 1 EUR = 1 USD
# 39248
Michail Yakovlevich Villie (1838-1910) "Road Scene", watercolor, 1865/85
1250 EUR
FINAL DISCOUNT PRICE= 1250 USD
( for EUR price see date rate )
Please note: Shipping and insurance costs are not included in this promotion, ONLY ITEM PRICES!
(please note additional Austrian VAT tax applies for transactions concluded within the European Union)
This watercolor was painted sometime between the years 1865 and 1885 by well-known Russian artist Michail Yakovlevich Villie during his 20-year-long stay in Western Europe.
Michail Yakovlevich Villie (1838 - 1910 St. Petersburg) was born into the family of a Russian military doctor (the chief-physician of the Russian military schools) and personal physician of Grand Duke Michail Pavlovich and his wife, daughter of the personal physician of the Empress Maria Fedorovna, I. F. Riull. Also the uncle of Michail Yakovlevich Villie was a doctor: he was the famous Baron Villie, leib-medic of Alexander I.
It would seem that M. Y. Villie was predestined to be a doctor, yet his childhood dream was to become an artist. His father died when he was 12. Two years later he was enrolled into the Nikolaevskoe Uchilishche (Military School). Concurrent to his studies, he attended lectures at the St. Petersburg Imperial Academy of Fine Art, where he learned the art of watercolor from artist Ludvig Osipovich Premazzi. He frequently accompanied his teacher on his trips to Finland and Estonia, where both of them worked en plein air.
On the 6th of June 1857, upon his graduation from the military school, Villie was enlisted as "praporshchik" (ensign) to the Life Guards Preobrazhenski Regiment. However, already five years later, he retired from the army, in order to fully devote himself to further studies at the Academy of Fine Arts. In 1863, the Academy granted him the official title of an artist. In 1865, he was awarded a 3-year-long scholarship for extending his art studies abroad. At first, Villie visited Scotland - the country of his predecessors. Then, from 1866, he spent two years studying under Jean-Francois Portaels in Brussels (in April of 1867 Villie was elected an Honorary Member of the Belgian Society of Watercolor Artists). Afterwards, he studied oil painting under Fedor Dietz in Munich. Apart from studying, Villie undertook numerous travels throughout France, Italy, Germany, Belgium and other countries. In 1868, after his return to St. Petersburg, he was appointed an Academician of Watercolor Painting. Soon after, however, he again left for abroad.
From that point on, Villie lived in Germany two years long (chiefly in Dusseldorf), then worked in Paris for ten years. He frequently visited Italy, and in 1875 - again England and Scotland. His name became well-known in Europe: he often participated in World Exhibition (Vienna, Brussels, twice in Paris) and All-Russian Exhibition in Moscow.
After the Paris World Exhibition of 1900 he was awarded the Chevalier Cross of the Legion of Honor. He counted among his clients numerous representatives of the European royalty and aristocracy. Although his visits to Russia decreased over time, he was considered a notable Russian watercolor artist. Tsar Alexander III acquired many of his watercolors, setting up a tradition later continued by Tsar Nikolai II. For his distinction in revival of the Russian national art, Villie was awarded Orders of St. Stanislav and St. Vladimir of the 4th Class.
In 1903, on recommendation of I. E. Repin, V. V. Mate and N. P. Kondakov, Michail Yakovlevich Villie was granted a full membership at the Academy of Painting. Additionally, for a long time, he was one of the most active members of the Society of Russian Watercolor Artists.
He died in St. Petersburg on the 16th of November 1910. The post-mortem exhibition of his works was held (February-March 1912) in the three halls of St. Petersburg Academy of Fine Arts (it featured more than 500 Villie's watercolors, oil paintings, and graphics). The opening of this exhibition was attended by Tsar Nikolai II and Grand Duchess Olga.
For the extensive biography of Michail Yakovlevich Villie, CLICK HERE.
Works of Villie are particularly rare at the current antique market (most of them are housed in museum collections). Our images nr.8-9 show the only two of his works that were offered for auction sales in the last years.

Provenance: German private collection

midec17ap14
Condition: good
Creation Year: 1865/85
Measurements: UNFRAMED:26,7x18,8cm/10,5x7,4in FRAMED: 44,0x35,2cm/17,3x13,9in
Object Type: Framed watercolor
Style: 19th century Russian paintings
Technique: watercolor on paper; matted and framed
Inscription: signed in Cyrillic: M. VILLIE
Creator: Michail Yakovlevich Villie
To see other works by this artist click on the name above!
Creator Dates: 1838-1910 St. Petersburg
Nationality: Russian
2-3 days door-to-door shipment, professionally packed by Mail Boxes Etc and shipped with DHL (calculated for US): 142,02 EUR + insurance 1,8% of item price
Shipping cost to other destinations (worldwide) on request
Shipping price may be reduced if you dispense with the frame


Cheaper alternative (may be further reduced if you dispense with the frame): professionally packed by Mail Boxes Etc and shipped with regular Austrian mail - upon request under office@wilnitsky.net (OBS: In this case maximal refunded insurance value is EUR 500 if shipping destination was the US. In Europe sometimes more, depending on destination.)
Click here for images free of watermark!
Click on images or on

to see larger pictures!