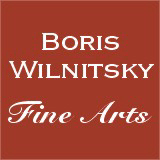 If you have a question about this item,
please contact us at: office@wilnitsky.net
# 40510
Joh. Heinrich Schmidt "Napoleon's Mamluck Roustam", Superior Pastel Portrait, 1813, SENSATION!
Price: EUR
(please note additional 13% tax applies for transactions concluded within the European Union)
SOLD!!!

This work had been first offered in 1999 at Bonhams London (see our image nr.8; note also the catalogue's erroneous date of 1808 instead of the correct date of 1813) and had later, in November 2015, resurfaced at the Parisian auction hose "Ader". This superior quality pastel by well-known Dresden turn-of-the-19th-century artist Johann Heinrich Schmidt was ascribed by the auctioneers of both Bonhams and Ader as portrait of an unknown gentleman in Turkish costume.
In reality, we are dealing here with an extremely important (and until now unknown to historians) portrait of the personal bodyguard of Napoleon I, Armeno-Georgian-born mamluk, Roustam Raza (CLICK HERE).
This particular (dated 1813) portrait of Raza was surely made in Dresden (alike another one of Schmidt's works in our possession - see our web #37940), during one of Napoleon's several stays in that city in 1813.

Roustam Raza (in Georgian - Rostom Razmadze) was born in 1780 (some sources suggest it was in 1783) in Tiflis (now, the capital of Georgia) as a son of Armenian merchant and his Georgian wife. When he was two years old, his family moved to his father's native Karabakh region. During one of the countless raids of the local highlanders, he (still a young boy) was hijacked and delivered to a slave market in Constantinople, where he was subsequently sold to a high-ranking Egyptian official. The latter proceed to make him one of his mamluks. After Roustam master's death, he was put into service of Sheik El Bekri who was living in Cairo. El Bekri became one of General Bonaparte's Cairo friends as the latter brought his troops into Egypt in 1798. In August of 1799 the sheik handed Roustam over to Napoleon, who then eventually made him his personal bodyguard.
Roustam served in this function for the next fifteen years; he was literally his master's shadow, following him in all his military endeavors, from Spain to Russia (see our images nr.14-16). Essentially, he was Napoleon's manservant (valet de chambre) and bodyguard at the same time: if he was seen anywhere then it was certain that Napoleon was near by. He helped the Emperor dress and put on his boots, and held the mirror while Napoleon shaved himself. When the Emperor traveled by coach, Roustam sat on the seat in front; and at night he slept in the room leading to the Emperor's bedroom (respectively, on battlefields, at the tent entrance, on the ground). From 1812, Roustam became responsible for the Emperor's firearms; every evening, assisted by an aide and in presence of the Grand Equerry or the duty equerry, Roustam unloaded the Emperor's pistols to reload them afresh.
In 1806, with Emperor's permission, he married Alexandrine Duville, daughter of Empress Josephine's maid; Napoleon personally paid all costs of the wedding and following festivities.
Nevertheless, in 1814, when Napoleon was exiled to Elba, Roustam did not follow him. Following the 100 Days, he reoffered his service to the former, but was denied, as Napoleon never forgave his disloyalty.
Roustam and his wife spent the next years in Paris (not counting Roustam's brief London stay). In the late 1820s the family settled in Alexandrine's native town Dourdan, 57km far from Paris, where Roustam died in 1845. He was buried at the local cemetery (see our image nr.17).

Roustam Raza left fascinating memoirs (CLICK HERE and HERE) throwing upon many particularities of Napoleon's court. Our images nr.10-13 show several other portraits of this man painted by his contemporaries: all of them fully confirming the identity of "our" sitter, i.e. Roustam Raza.
Moreover, in the 2nd chapter of his memoirs (see also our image nr.20), Roustam writes the following: "l was usually wearing a mamluk's dress, but, during festivities, I was wearing either a velvet gold-embroidered or a cashmere uniform; in everyday life, I was wearing a less exuberant (though similarly gold-embroidered) blue woolen uniform (exactly the kind that is worn by the sitter in "our" portrait!! - B.W.).

We would also like to add that the widely known through the Web alleged (!) portrait of Roustam Raza painted by Horace Vernet (on display in New York's Metropolitan Museum - see our image nr.19) is in reality the portrait of Roustam's own assistant, mamluk Ali. In fact, Ali was the name given to him by Napoleon. His birth name was Louis Eitenne Saint-Denis, and he was a Frenchman by birth (1788-1856; CLICK HERE). In 1811, he entered the Emperor's personal service as Roustam's assistant. In contrast to the latter, he remained loyal to Napoleon, followed him to Elba and accompanied him to St. Helena.
The author Johann Heinrich Schmidt (1749 Hildburghausen - 1829 Dresden) was a pupil of his father, court painter of Duke of Saxe-Hildburghausen, Johann Thomas Schmidt (d. 1790). In 1771-1773, he also studied under J.-B. Pierre at the Parisian Academie Royale. Thereafter, he moved to Turin, where he portrayed the wife of Count Artois (the future King Carl X of France). Back in his native Germany, in 1775, Schmidt became a court painter in Dresden, and was appointed a member of Dresden Academy. From Dresden he made trips to Prague, Vienna, Berlin and other German cities. During a long stay in Berlin he married in 1779 a young and beautiful widow from the Lower Saxony. Afterwards, he travelled to Kurland (present-day Latvia) and Lievland (Lithuania), where he similarly stayed a long time. In 1784, the artist relocated to St. Petersburg and remained there for two years. In Russian capital Schmidt found a truly generous patroness in Grand Duchess Maria Fedorovna, the wife of Catherina the Great's son, Grand Duke Paul (the future Tsar Paul I of Russia).
Russian art historian E.G. Perova in her book "Pastel. History. Technique. Restoration. Attribution." (published in Moscow in 2006) presents a list of surviving "Russian" pastel portraits of J.H. Schmidt. She adds that in St. Petersburg, Schmidt was a quite expensive portraitist, who painted exclusively on vellum (a rather costly material in that time). She claims that, today, the majority of J.H. Schmidt's existing works are in Russia (there are in sum as many as seventeen (!) of his works housed in State Historical Museum, State Tretyakov Gallery, State Hermitage and in Moscow Pushkin Museum). In St. Petersburg, the artist's sitters were mainly members of various noble families such as Razumovsky, Protasov, Saltykov, etc. He also portrayed Generalissimo Alexander Vasilievich Suvorov (1800).
Further in her book, E.G. Perova implies that J.H. Schmidt painted not particularly large (in height no more than 30 cm) portraits on vellum. They had oval, tondo, rectangular of octagonal form. They were shoulder-length portraits with a slight turn (sic!), face - nearly full-face… "He used to add some bright accents to his portraits (for example, blue sashes in portraits of Sophia Osipovna Apraksina and Natalia Vladimirovna Saltykova)", adds Perova.
After returning to Germany, the artist frequently revisited Vienna and Prague, yet his permanent residence was in Dresden.
CLICK HERE FOR OTHER WORKS OF THIS ARTIST IN OUR POSSESSION

midec28ap15
Condition: fairly good; vellum is wavy in some areas (needs to be re-stretched)
Creation Year: 1813
Measurements:UNFRAMED:38,7x31,2cm/15,2x12,3in FRAMED: 55,5x47,5cm/21,9x18,7in
Object Type:Framed pastel
Style: Portrait paintings
Technique: pastel on vellum, mounted by artist onto stretcher
Inscription:signed and dated: Schmidt fec. /1813
Creator: Johann Heinrich Schmidt
Creator Dates: 1749 Hildburghausen-1829 Dresden
Nationality:German
SHIPPING COSTS UPON REQUEST:
office@wilnitsky.net
Click here for images free of watermark!
Click on images or on

to see larger pictures!