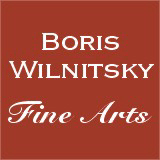 If you have a question about this item,
please contact us at: office@wilnitsky.net
# 41309
Nicolas François Dun "Beatrix, Duchess Riario-Sforza", important miniature!!, 1794
Price: EUR
(please note additional 13% tax applies for transactions concluded within the European Union)
THE SELLER WILL COVER SHIPPING WITH REGULAR MAIL FOR THIS ITEM!

SOLD!!!


This miniature portrait was executed (according to sitter's dress and hairstyle) in mid 1790s in Italy; as we will see below in 1794 the wedding of this lady took place (she is dressed as a bride!). It is a portrait of Beatrix, Duchess Riario-Sforza, nee Princess of Saxony and Countess of Lausitz.

Beatrix was born on February 1, 1772 in Chaumot, department Nievre, France as the sixth child of Franz Xavier, Prince of Saxony (1730-1806; CLICK HERE) and his wife Chiara Maria, nee Countess Spinucci (1741-1792). On February 18, 1794, at the age of 22, she married in Rome Neapolitan aristocrat Raffaele, Duke Riario-Sforza, marquis de Corleto (1767-1797; see our image nr.11 for excerpt from Florentine newspaper "Gazetta Universale": we learn from its issue of February 25, 1794 of their matrimony and that it took place in Roman Palazzo del Principe Gabrielli (the ceremony was performed by Cardinal Borgia)).
The couple had only one child - daughter Giovanna (1797-1855) who later married Austrian general Laval, Count Nugent von Westmeath.
Duke Riario-Sforza died in 1797 in Dresden. In her widowhood, Beatrix lived in Naples and Rome. She died on February 6, 1806 in Dresden.

This miniature is an important work of Neapolitan court miniaturist, Frenchman Nicolas François Dun.
Nicolas François Dun (1764 Luneville - 1832 Naples) was born into family of a musician working at the Lorraine Court in Luneville. It is unknown, where or with whom he studied, but in 1790 one could find him in Naples, where Dun belonged to the inner circle of friends of famous Lady Hamilton, wife of British ambassador, who was living in this city at the time. It was in her house that the artist made acquaintances with Goethe, Hackert, Angelika Kauffmann, Fueger, Mme Vigée-Le Brun, etc. He soon became a court portrait miniature painter, proceeding to portray all royalties of Naples of the following forty years, beginning with Bourbons, then family of Murat, and finally, Bourbons again. In the Period of Restoration (after the end of Napoleonic Era) he often portrayed members of the Russian and Austrian aristocracy staying in Naples (among his known miniatures are portraits of Comte and Comtess Orlov (1817), Prince Nikolaus Palffy, Prince Labanov, Prince Dolgorukov, etc.).
Works of this artist can be seen in collections of museums of Chantilly and Gotha, the Wallace Collection (London), Louvre (Paris), various Russian museums, etc..
Our images nr.12-14 show several works of this artist that were offered at the international art auction market in the last years.

Provenance: private collection, South Germany

mijan12ap17
Condition: fairly good; minimal horizontal crack in mid-left area; in original frame made of gold (see our image nr.8-9 for hallmarks)
Creation Year: 1794
Measurements:UNFRAMED:7,0x7,0cm/2,8x2,8in FRAMED: 7,6x7,6cm/3,0x3,0in
Object Type:Framed miniature
Style: Portrait Miniatures
Technique: watercolor on ivory
Inscription:signed: Dun; verso: old legend
Creator: Nicolas François Dun
Creator Dates: 1764 Luneville-1832 Naples
Nationality:French
We will cover shipping with regular registered mail (delivery between 7-14 days) for this item.

OBS: Austrian mail refunds cases of loss or damage with maximum EUR 500.


Fully insured 2-3 days DHL service available upon request and subject to extra charges: office@wilnitsky.net
Click here for images free of watermark!
Click on images or on

to see larger pictures!