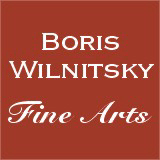 If you have a question about this item,
please contact us at: office@wilnitsky.net
# 41328
Sir George Dawe-Follower "Charlotte Augusta of Wales", enamel miniature, 1st half of the 19th c.
Price: 1450 EUR
(please note additional 13% tax applies for transactions concluded within the European Union)
THE SELLER WILL COVER SHIPPING WITH REGULAR MAIL FOR THIS ITEM!

Alike our web #37441, this superior quality enamel miniature is a partial (mirror-inverted) copy after the (executed in 1817, shortly before the sitter's death) large-scale oil portrait of Princess Charlotte Augusta of Wales.

Princess Charlotte Augusta was the only child of the ill-fated marriage between Prince Regent, future King George IV (at that time Prince of Wales), and Caroline of Brunswick.
She was born at Carlton House in London, her birth being something of a miracle, as George IV later claimed that he and his wife had sex no more than three times during their whole marriage. By the time she was a few months old, Charlotte's parents were effectively separated, and her mother's time with her was severely restricted by her father.
She grew into a headstrong and difficult teenager, and fell out with her mother when Caroline decided to go into continental exile. She was restricted to Cranbourne Lodge at Windsor, Berkshire from July 1814 to January 1816, when Prince Leopold of Saxe-Coburg lobbied the Prince Regent and the English Parliament for the right to court her.
Charlotte married Prince Leopold on May 2, 1816 at Carlton House.
Contemporary accounts describe their marriage as happy and contented, and they lived at Claremont, a wedding gift from the nation. After two miscarriages in the early months of their marriage, she conceived a third time. Although she was healthy at the beginning of the pregnancy, medical staff took extra precautions; medical practice at the time was bloodletting and a strict diet, which only served to weaken Charlotte. After a 50-hour labour at Claremont, she delivered a stillborn son there on November 5, 1817, dying the next morning.
The Princess was buried in St.George's Chapel, Windsor with her son at her feet. Her death was mourned nationally, on a scale similar to that which followed the death of Diana, Princess of Wales in 1997.
Charlotte's death left her father without any direct heirs, and resulted in a mad dash towards matrimony by most of her bachelor uncles (the marriage of her uncle Prince Edward Augustus, Duke of Kent, produced an heir - Queen Victoria).
Provenance: private collection, England

mijan1817
Condition: fairly good
Creation Year: 1st half of 19th Century
Measurements:UNFRAMED:6,5x5,2cm/2,6x2,0in FRAMED: 14,0x9,0cm/5,5x3,5in
Object Type:Framed miniature
Style: Portrait Miniatures
Technique: enamel on copper
Inscription:-
Creator: English School
Creator Dates: -
Nationality:English / British
We will cover shipping with regular registered mail (delivery between 7-14 days) for this item.

OBS: Austrian mail refunds cases of loss or damage with maximum EUR 500.


Fully insured 2-3 days DHL service available upon request and subject to extra charges: office@wilnitsky.net
Click here for images free of watermark!
Click on images or on

to see larger pictures!