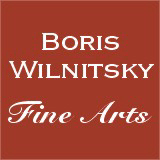 If you have a question about this item,
please contact us at: office@wilnitsky.net
# 41541
Marguerite Laederich "Henriette de Choisy, "dame d'atours" of Madame Royale", ca. 1815
Price: 3500 EUR
(please note additional Austrian VAT (Value Added Tax) applies for transactions concluded within the European Union)
THE SELLER WILL COVER SHIPPING WITH REGULAR MAIL FOR THIS ITEM!

The authentic old inscription on verso of this superior quality miniature reads as follows: "La Comtesse /de Choisy, /chanoinesse qui a /logé, pendant de lon /gues années chez la Com /tesse Zichy-Ferraris on /l'appelait /la bonne dame" (English: Countess de Choisy, the canoness who lived in the house of Countess Zichy-Ferraris. She was referred to as "the good lady").

In reality, the sitter's full name was Anne Charlotte Henriette comtesse de Choisy. Historians imply (see our image nr.8) that she was 15 years older than Countess Ferraris (Marie Wilhelmine Ferraris was later married to Count Zichy; to the Viennese high society she was widely known as "Molly Zichy-Ferraris" - see our image nr.14). This age difference is helpful in the establishment of the approximate birth year of Mlle de Choisy - ca. 1765).
She was the daughter of famous French officer, comte de Choisy from Nancy (the latter distinguished himself in 1772: in this year, he led twenty five French and six hundred Polish men, who withstood the siege of Cracow inflicted by eighteen thousand Russians - CLICK HERE). In ca. 1793 (onset of the Great Terror), she, her mother and her two sisters left their native Lorraine (France) and immigrated to Austria. There, they found refuge in one of the Austrian convents. Sometime later, she made acquaintance with (living in the convent's vicinity) family of Count Joseph Johann Ferraris (the latter's wife was also of Lorraine origin). She soon became a friend (and possibly a tutor) of the couple's 13/14-year-old daughter Marie Wilhelmine ("Molly") Ferraris (see our web #40972).

In 1796, both women became friends of the daughter of Louis XVI and Marie Antoinette, Marie Therese of France (CLICK HERE), who just arrived to Vienna after beaing released from her imprisonment in Parisian Temple Tower.
From that point of time onward, Mlle de Choisy commited the rest of her life to Marie-Therese. She became the latter's "dame d'atours" (lady-in-waiting responsible for wardrobe). In May 1799, she accompanied Marie-Therese to Mitau (then - territory of the Russian Empire; now - Jelgava, Latvia). There, Marie-Therese was to meet her cousin and fiancé, Louis Antoine, duc d'Angouleme. Their wedding took place in Mitau, in June of 1799. The newlywed couple remained in Mitau until 1806, then moved to England and, in 1814 (1st Restoration) and then again in summer of 1815 (2nd Restoration) returned to France.
In 1830, during the July Revolution, duc d'Angouleme and his wife left France. They spent two and half years in Edinburgh, In 1833 they settled (under names of Count and Countess de Marnes) in Austrian Görz (also Gorizia; now - Gorica in Slovenia). In 1844, duc d'Angouleme passed away in Görz. Following his death, his wife moved to Castle Frohsdorf in Lower Austria, where she spent the remaining years of her life (she died there on October 19, 1851) .
Almost all these years or, to be more precise, from the late 1790s to January 28, 1841 (on this date, she died in Görz), Henriette de Choisy was Duchess d'Angouleme's most loyal friend and confidant: in Mitau, England, France, Scottland and finally back in Austria. Back in 1815, in Paris, she married fifteen years her senior Antoine Jean, vicomte d'Agoult, "premier ecuyer" (equerry) of her duchess and governor of Chateau de Saint-Cloud. He died in 1828 (see our image nr.13).

We would like to add that, according to comprehensive listing of all the known artworks of famous French female artist Elisabeth-Louise Vigee Lebrun (1755-1842; she lived in Vienna for three years between 1792 and 1795), the latter made pastel portraits of Henriette and her two sisters (unfortunately, the whereabouts of these works is unknown).
The author of this miniature , Mme Marguerite Laederich, was a pupil of great Parisian miniaturist Jean-Baptiste Jacques Augustin. All of her miniatures signed "Marguerite /Laëderich" or "Mme /Laëderich" stem from the period between 1814 and 1818. In 1814/16, she lived on rue Neuve des Bons-Enfants, No.35 in Paris. A widow (or divorcee?) from as early as 1818, she remarried to certain Monsieur Gastal in 1819 (from 1819 until the 1830s, she produced miniatures that she signed "Mme /Gastal"). For further information about this artist, see our images additional images.
Provenance: private collection, Germany

mimai10ap17
Condition: good; glass with freeze
Creation Year: ca 1815
Measurements:UNFRAMED:6,5x5,5cm/2,6x2,2in FRAMED: 7,5x6,3cm/3,0x2,5in
Object Type:Framed miniature
Style: Portrait Miniatures
Technique: watercolor on ivory
Inscription:signed: Mme /Laederich
Creator: Mme Marguerite Gastal-Laederich
Creator Dates: was active btwn. 1814-1818 in Paris
Nationality:French
We will cover shipping with regular registered mail (delivery between 7-14 days) for this item.

OBS: Austrian mail refunds cases of loss or damage with maximum EUR 500.


Fully insured 2-3 days DHL service available upon request and subject to extra charges: office@wilnitsky.net
Click here for images free of watermark!
Click on images or on

to see larger pictures!