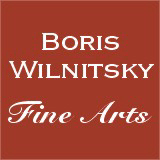 If you have a question about this item,
please contact us at: office@wilnitsky.net
# 41628
Louis-Marie Sicardi (1743-1825)-Attrib. "Portrait of a gentleman", fine miniature on ivory, 1780s
Price: 1650 EUR
(please note additional 13% tax applies for transactions concluded within the European Union)
THE SELLER WILL COVER SHIPPING WITH REGULAR MAIL FOR THIS ITEM!

This high quality miniature on ivory strongly resembles works of well-known late-18th-century French artist Louis-Marie-Sicard (Sicardi) and could with great possibility by the latter's authentic creation.
Louis-Marie Sicard, called Sicardi, was born in 1743 in Avignon as a son of Toulousian-born portraitist Jean-Pierre-Antoine Sicardi (ca.1718 - ca.1796); his works are extremely rare: we could find only one of them, which is published on the web; see our last image) and Marseille-born Marie-Anne, nee Scudier. Together with his parents (his father was an itinerant artist) Louis-Marie travelled throughout South France. We know about his 1759 stay in Toulouse; one then finds him in Avignon and Bordeaux. In 1769, at the age of 26, Louis-Marie became an associate at the Academy of Bordeaux, and - in 1771 - a full member of this institution and (at the same time) it's teaching professor. In 1774 he moved to Paris, where soon gained great success at the court. On many occasions he portrayed the King and Queen, as well as other members of the Royal Family. The major part of his portraits of Louis XVI and Marie Antoinette were mounted on gold boxes and used as diplomatic presents. Similarly, his numerous portraits of other artists, including those of the sculptor Augustin Pajou (1789), Mlle Levert of the Theatre Francaise (1810), Mlle Bourgoing as Antigone (1812), and Jean Joseph Carrier (1816). Sicardi exhibited at the Salon de Paris from 1791 to 1819. Under the Empire, he does not seem to have worked for the court, but he kept a rather important clientele amongst the aristocracy.
Further, Schidlof mentions that "the great part of the works of Sicardi are not signed. He signed "Sicardi" with or without date, sometimes: "S." and rarely: "Siccardi…".
Provenance: private collection, France

mijun14ap17
Condition: good; set into a round, golden frame
Creation Year: 1780s
Measurements:UNFRAMED:3,7x3,0cm/1,5x1,2in FRAMED: 4,2x4,2cm/1,7x1,7in
Object Type:Framed miniature
Style: Portrait Miniatures
Technique: watercolor on ivory (oval)
Inscription:-
Creator: Louis-Marie Sicardi
Creator Dates: 1743 Avignon-1825 Paris
Nationality:French
We will cover shipping with regular registered mail (delivery between 7-14 days) for this item.

OBS: Austrian mail refunds cases of loss or damage with maximum EUR 500.


Fully insured 2-3 days DHL service available upon request and subject to extra charges: office@wilnitsky.net
Click here for images free of watermark!
Click on images or on

to see larger pictures!