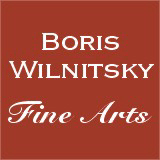 If you have a question about this item,
please contact us at: office@wilnitsky.net
# 42739
Josef Kreutzinger "Portrait of Elena Pavlovna, Grand Duchess of Russia", 1799, SENSATIONAL DISCOVERY!!
Price: ON REQUEST
(please note additional 13% tax applies for transactions concluded within the European Union)
A truly sensational discovery!

In Gatchina - the Tsar's Imperial residence in the suburb of St. Petersburg - October of 1799 was marked by two magnificent festivities - weddings of two daughters of Emperor Paul I that were celebrated one after another. The wedding of (nearly) 15 year old Grand Duchess Elena Pavlovna (1784-1803; CLICK HERE, HERE and HERE) took place on October 12: she was married to Hereditary Prince Friedrich Ludwig von Mecklenburg-Schwerin (1778-1819; CLICK HERE and see our image nr.19).
The wedding of Elena's elder sister Grand Duchess Alexandra Pavlovna (she was eighteen months older; 1783-1801; CLICK HERE and HERE) took place one week later, on October 19: she was married to the brother of Austrian Emperor, Archduke Joseph (1776-1847; CLICK HERE). Soon after the festivities, both newlywed couples left St. Petersburg (the second couple - in two weeks, and the first one - in two months) and moved to their husbands' native countries: Alexandra and Joseph went to Vienna; Elena and Friedrich Ludwig - to the latter's residence town Schwerin (now the center of German province Mecklenburg-Vorpommern).

Only one wedding (sic!) portrait of the two sisters' was known so far. It is a copper engraving after the (lost!) portrait (a large-scale oil painting? a miniature?) of Alexandra Pavlovna (after the wedding - Archduchess of Austria; see our image nr.9). The "address" (inscription under the image) informs one that the author of the original 1799 painting was a Viennese court portraitist (and miniaturist!) Josef Kreutzinger. Similarly, it informs that the artist, who engraved it after the original work, was another Viennese resident - engraver Johann Neidl.
Subsequently, one could assume that Kreutzinger portrayed Alexandra just after her arrival to Vienna (late 1799), and that Neidl promptly reproduced it by making a copper engraving.

In this engraving, then sixteen year old Alexandra Pavlovna is presented as an adult (sic!) woman wearing a Neoclassical gown with stole, her hair magnificently adorned with ostrich-plume.

To our profound surprise, we discovered a very similar portrait in the pre-sale online catalogue of one of Parisian auction houses in December 2018: namely, the large miniature, which is presented here (see our images nr.1-2 and nr.10), likewise painted by Josef Kreutzinger. Our comparison images nr.22-24 leave no doubt that it is the latter's original work (also CLICK HERE FOR OTHER WORKS OF HIS IN OUR POSSESSION). The miniature shows Alexandra Pavlovna's beloved sister, the "first" bride of October 1799 (October 12) - Grand Duchess Elena Pavlovna (similarly, our comparison images nr.12-18 leave no doubt that it is her portrait).
Like her sister, despite her young age (nearly 15 !) she is also depicted as an adult (!) woman (the artist intentionally made her look older, in order to emphasize her entrance into adult life). She too is wearing a Neoclassical gown with stole, and her hair is similarly adorned with a fashionable ostrich-plume.
In contrary to Alexandra, who is shown facing right in the portrait, Elena is portrayed facing left; perhaps, portraits of both sisters were originally intended to be one another's counterpieces (companions), or those of their husbands' portraits.
The second option appears to be more plausible. And indeed, we found in the Austrian National Library's digital collection of portrait prints a copper engraving by the same artist (Johann Neidl), which was executed in the same (1799) year, after the same artist (Josef Kreutzinger; see our image nr.11). This ¾-length portrait of Alexandra's husband Joseph is certainly the counterpiece to her portrait (note that both sitters - the husband and wife - are portrayed facing each other).
We are certain that, in the past, Kreutzinger's counterpiece to "our" portrait of Elena Pavlovna, namely a portrait of her husband Prince Friedrich Ludwig, existed as well, and that this portrait was executed in the same technique and same size as hers (surely, the Prince was portrayed facing his wife, i.e. to the right).
Sadly, neither traces of this small portrait (was it lost? destroyed?) of Prince Friedrich Ludwig, nor the possible engravings after the portrait of Elena Pavlovna and after the (possible) portrait of her husband, have not been discovered.

The shared similarity in composition of Alexandra's and Elena's portraits, the same fashion of their dresses and (a highly important attribute of both works!) the ostrich-plumes adorning their hair - suggest that both portraits were produced at the same time and place.

However, it could not have been in Vienna - the city where Alexandra and Archduke arrived in November 1799: none of "our" Elena Pavlovna's biographers (dated or modern) ever mention her possible stay in Vienna in the late 1799 (or ever after). On the contrary, what is known (see above) is that she and her Prince left St. Petersburg in late December 1799 and went directly to Schwerin, where she passed away four years later.

Consequently, the only possible time and location, when and where all four portraits (two pairs) could have been painted (we strongly believe they were all miniatures of the same size!) was October 1799, St. Petersburg.

So far, there have been recorded one single visit of Josef Kreutzinger to St. Petersburg - in 1793. In 2006, the book "Mehr als Biedermeier: Klassizismus, Romantik und Realismus in der Oesterreichischen Galerie Belvedere" was published by Viennese art historian Dr. Sabine Grabner. In it, she is bringing one's attention to two of (housed by the Hermitage Museum in St. Petersburg) Kreutzinger's portraits of Russians executed later than 1793 and prudently suggests that the artist's stay in the Russian capital lasted not months, but years.

In our turn, we would like to offer another, more convincing alternative: Josef Kreutzinger accompanied Archduke Joseph to St. Petersburg (the latter is known to have visited this city twice in the period between late 1798 and autumn of 1799; during his first visit, he made acquaintance with his future bride, Alexandra Pavlovna; he began his second visit to the Russian capital in September of 1799 and remained there until his matrimony in Gatchina, in October of the same (1799) year).
It was there, in Gatchina, that Kreutzinger portrayed all four "players" in October of 1799: Alexandra with Joseph, and Elena - with Friedrich Ludwig.
The first pair of miniatures (i.e. the newlywed "Austrian" pair) was taken by Alexandra and Joseph to Vienna; the second pair - went straight to Schwerin.

Another argument in favor of St. Petersburg as the place of all four portraits' execution is Johann Neidl's engraved (also in late 1799) portrait of the consort of Tsar Paul I and the two sisters' mother, Empress Maria Fedorovna (see our image nr.20). The "address" of this engraving also names Josef Kreutzinger as the author of the original portrait (clearly, a large miniature painted in the same size and technique!).
Moreover, we do not exclude the possibility of Kretzinger's painting other portrait(s) of Tsar Paul I, as well as sisters' other siblings in the same autumn days of 1799. Unfortunately, today, these portraits are impossible to locate.

Conclusion: we were fortunate to discover an extremely important and a thus far unknown wedding portrait of the daughter of Tsar Paul I, Grand Duchess Elena Pavlovna.



Josef Kreutzinger (also Kreuzinger; 1757 Vienna - 1829 ibidem) studied from 1768 at the Viennese "Academy St. Anna" (Academy of Fine Art) and after 1774 was strongly influenced by Viennese Neoclassical historical painter and portraitist Friedrich Heinrich Fueger who arrived in Vienna this year. Kreutzinger became Fueger's pupil immediately. After a short stay in Munich and several months in St. Petersburg (1793), Kreutzinger returned to Vienna where he later became a sought after portraitist of high society and court (he was also appointed"Hofkammermahler" (court artist)). His works of this period demonstrate a strong influence of English portraitists of the 18th century - Lawrence, Reynolds and Gainsborough. From Lawrence originates the "en-face" representation of faces with a sidewards glance and upper body facing in the opposite direction in three-quarters portraits. Reminiscent of Gainsborough are portraits where the depicted person stands next to their horse. Besides royalties and high aristocracy Kreutzinger's clientele consisted of military persons, scholars and artists. Later he also portrayed representatives of Viennese bourgeosie. He was also active as engraver and portrait miniaturist.
Our web #42739 is a convincing prove of the fact that Kreutzinger visited Russia at least one more time: in autumn of 1799, he portrayed in St. Petersburg the newlywed daughters of Tsar Paul I, Grand Duchess Alexandra Pavlovna and Elena Pavlovna, as well as their husbands - Archduke Joseph of Austria and Friedrich Ludwig, Prince of Mecklenburg-Schwerin, and the duchesses' mother, Empress Maria Fedorovna.
In 1936 one of Vienna's streets was named in Josef Kreutzinger's honor - Kreutzingergasse in the Viennese 12th district.


mijan1719
Condition: fairly good; two minor tears at right edge (see image nr.2)
Creation Year: 1799
Measurements:UNFRAMED:16,5x13,8cm/6,5x5,4in FRAMED: 22,2x19,6cm/8,7x7,7in
Object Type:Framed miniature
Style: Portrait Miniatures
Technique: watercolor on vellum paper, laid on metal and then on cardboard by the artist
Inscription:-
Creator: Josef Kreutzinger
Creator Dates: 1757 Vienna-1829 Vienna
Nationality:Austrian
SHIPPING COSTS UPON REQUEST:
office@wilnitsky.net
Click here for images free of watermark!
Click on images or on

to see larger pictures!