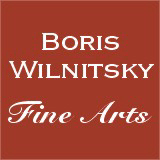 If you have a question about this item,
please contact us at: office@wilnitsky.net
# 43219
Mme Adelaide Boilly "Son Edouard in age of 5 years", miniature on ivory, 1804, IMPORTANT DISCOVERY
Price: 11000 EUR
(please note additional Austrian VAT (Value Added Tax) applies for transactions concluded within the European Union)
It is a finest quality miniature on ivory with full-length portrait of a little boy (he seems to be in age of 5/6 years) depicted standing in a forest landscape. Acquired still in 2008 (see provenance below) this miniature several times changed (our attempts of attribution) name of its author.
Published in late 2019, in Paris first catalogue raisonée of great French, turn of 19th century painter Louis-Leopold Boilly brought us to a sensational discovery - we are dealing with an extremely rare work of previously unknown as a portrait miniaturist, second wife of Boilly - Mme Adelaide Boilly, nee Leduc (Le Duc). Comparison of this miniature with our web #43220 fully confirms Adelaide's authorship!!

Although one finds in Boilly's catalogue raisonée mentions of different miniature portraits by this great artist (many of them without indication of a technique) till today were known three works of latter definetely executed in technique of miniature painting on ivory - exhibited in 1912, in St.Petersburg miniature portrait of French poet Emile Deschamps (Cat.No 2637, whereabouts unknown), "Portrait of Mme Chenard" in Museum of Quimper(Cat.No.245 P) and offered in 2018 at Berlin auction house "Bassenge" "Portrait of a young lady in blue gown" (Cat.No 246 P - see our images nr.15-16).
Nevertheless comparison of both latter works with presented here miniature don't allow to affirm that he is author of our one.

Yet, as we will see below the sitter of our charming miniature on ivory is nobody else than Boilly's 5-year-old son Edouard (b.1799)!
We see the same boy on two preparatory studies for Boilly's oil painting from 1812 - "The entrance to the Turkish Garden Cafe" (see our images nr.7-9). The same boy (definited as Edouard Boilly) appears on executed by his father (still in 1804 (sic!)) oil painting "Trois des enfants de l'auteur, faisant l'exercice" (see our images nr.10-11). We are sure that exactly in 1804 Boilly's second wife Adelaide portrayed her second-born child (future graphic artist, engraver and especially musician (well-known pianist and composer - see our images nr.16-17)) in technique of miniature painting on ivory. Beginning this date figure of the little Edouard (as an element of staffage) is to see on varios paintings of his father (see for example our image nr.12).


Mme Adelaide (Adelaide-Francoise-Julie) Boilly was born in 1774 and died in 1819, in Paris. She was a youngest daughter of merchant Pierre-Francois Leduc (also Le Duc) and Francoise-.Josephe-Julie Carton. She was also first cousin of dramatist Antoine-Vincent Arnault. Her family lived at No. 398, Rue de Clery, section Bonne-Nouvelle, Paris. On 3rd November 1795 she married (as his second wife) artist Louis-Leopold Boilly. She can't be ident with certain "Mlle (sic!) Caroline Boilly (or Bailly)" whose name one finds in Augustin's list of pupils visiting his studio in 1796.
Nevertheless in the recently published Augustin's catalogue raisonée by Bernd Pappe we learn that from 1794, having returned to Paris, Augustin had his appartment (including a studio attended by his female pupils (sic!)) in the house of a certain M.(onsieur) Le Duc (sic! maiden name of Adelaide!). Was it the house of her parents? Or of paternal relatives? Was she also among Augustin's pupils?
Provenance:
- Boilly family?
- Auction House "William J. Jenack", Chester/New York, February 3rd 2008, Lot 1236.

mimarap08
Condition: good; in original wooden with brass frame (wooden part of frame with splits)
Creation Year: 1804
Measurements:UNFRAMED:10,2x8,9cm/4,0x3,5in FRAMED: 20,6x17,6cm/8,1x6,9in
Object Type:Framed miniature
Style: Portrait Miniatures
Technique: watercolor on ivory
Inscription:-
Creator: Adelaide-Françoise-Julie Boilly
Creator Dates: 1774 Paris-1819 Paris
Nationality:French
2-3 days door-to-door shipment, professionally packed by Mail Boxes Etc and shipped with DHL (calculated for US): 100,11 EUR + insurance 1,8% of item price
Shipping cost to other destinations (worldwide) on request
Shipping price may be reduced if you dispense with the frame


Cheaper alternative (may be further reduced if you dispense with the frame): professionally packed by Mail Boxes Etc and shipped with regular Austrian mail - upon request under office@wilnitsky.net (OBS: In this case maximal refunded insurance value is EUR 500 if shipping destination was the US. In Europe sometimes more, depending on destination.)
Click here for images free of watermark!
Click on images or on

to see larger pictures!