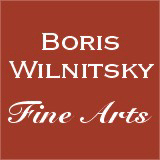 SALE!!! SAVE MONEY !! 1 EUR = 1 USD
# 25992
Johann Heinrich Schmidt (1749-1829) "Portrait of Maximilian, Prince of Saxony", outstanding pastel!
10000 EUR
FINAL DISCOUNT PRICE= 10000 USD
( for EUR price see date rate )
Please note: Shipping and insurance costs are not included in this promotion, ONLY ITEM PRICES!
(please note additional 13% tax applies for transactions concluded within the European Union)
Acquired together with our web # 25993 at the Viennese Auction House "Dorotheum" (sale "Kingdom", 19 April 2001, lot 201, as portraits of "members of Poniatowski Family - ?!; see our image #6), it is a supreme quality pastel portrait depicting in reality young Maximilian, Prince of Saxony. Moreover, the portrait was painted by well known German portraitist (especially a pastelist!) - Johann Heinrich Schmidt (1749-1829). Our image # 7 shows the author's own replica of this portrait, namely the one housed in Dresden Gallery. Image # 8 shows a portrait of Prince Maximilian painted by Anton Graff. Additional images #9-13 show several other works of Johann Heinrich Schmidt (among others, a number of his "Russian" portraits, painted during his two-year stay in St. Petersburg)! Finally, our images # 14-16 show an article about the replic in the Dresden Gallery with extensive information about sitter and author of portrait.

The sitter, Maximilian, Prince of Saxony (13 April 1759 - 3 January 1838) was a son of Frederick Christian, Elector of Saxony and Maria Antonia, Princess of Bavaria. He married firstly in 1792 Carolina di Borbone, principessa di Parma, with whom he had seven children (among them were the two future Kings of Saxony: Friedrich August II and Johann). After the death of his wife, Prince married his second wife Maria Luisa de Bourbon, duquesa de Luca, with whom he had no children.
Prince Maximilian's elder brother (the second portrait acquired in "Dorotheum" pair; see our web # 25993), Frederick Augustus, became in 1763 the Elector of Saxony at the age of thirteen, and held, furthermore, the title of Grand Duke of Warsaw from 1807 to 1814.
The author Johann Heinrich Schmidt (1749 Hildburghausen - 1829 Dresden) was a pupil of his father, court painter of Duke of Saxe-Hildburghausen, Johann Thomas Schmidt (d. 1790). In 1771-1773, he also studied under J.-B. Pierre at the Parisian Academie Royale. Thereafter, he moved to Turin, where he portrayed the wife of Count Artois (the future King Carl X of France). Back in his native Germany, in 1775, Schmidt became a court painter in Dresden, and was appointed a member of Dresden Academy. From Dresden he made trips to Prague, Vienna, Berlin and other German cities. During a long stay in Berlin he married in 1779 a young and beautiful widow from the Lower Saxony. Afterwards, he travelled to Kurland (present-day Latvia) and Lievland (Lithuania), where he similarly stayed a long time. In 1784, the artist relocated to St. Petersburg and remained there for two years. In Russian capital Schmidt found a truly generous patroness in Grand Duchess Maria Fedorovna, the wife of Catherina the Great's son, Grand Duke Paul (the future Tsar Paul I of Russia).
Russian art historian E.G. Perova in her book "Pastel. History. Technique. Restoration. Attribution." (published in Moscow in 2006) presents a list of surviving "Russian" pastel portraits of J.H. Schmidt. She adds that in St. Petersburg, Schmidt was a quite expensive portraitist, who painted exclusively on vellum (a rather costly material in that time). She claims that, today, the majority of J.H. Schmidt's existing works are in Russia (there are in sum as many as seventeen (!) of his works housed in State Historical Museum, State Tretyakov Gallery, State Hermitage and in Moscow Pushkin Museum). In St. Petersburg, the artist's sitters were mainly members of various noble families such as Razumovsky, Protasov, Saltykov, etc. He also portrayed Generalissimo Alexander Vasilievich Suvorov (1800).
Further in her book, E.G. Perova implies that J.H. Schmidt painted not particularly large (in height no more than 30 cm) portraits on vellum. They had oval, tondo, rectangular of octagonal form. They were shoulder-length portraits with a slight turn (sic!), face - nearly full-face… "He used to add some bright accents to his portraits (for example, blue sashes in portraits of Sophia Osipovna Apraksina and Natalia Vladimirovna Saltykova)", adds Perova.
After returning to Germany, the artist frequently revisited Vienna and Prague, yet his permanent residence was in Dresden.
In 1805, on commission of his Elector, Frederick Augustus I (sic! his portrait is our web # 25993), Schmidt painted the Russian Tsar Alexander I. In 1813-1814, he portrayed Napoleon, as well as numerous other French, and, later, Russian generals. However, Schmidt's progressive eye ailment eventually put an end to his artistic performance.

THIS PAINTING IS BEING SOLD ONLY TOGETHER WITH OUR WEB # 25993. THE TOTAL PRICE OF THIS PAIR IS EUR 40.000.

anjan06
Condition: In good condition, octagonal, framed
Creation Year: ca 1775 18th Century
Measurements: UNFRAMED:21,0x16,0cm/8,3x6,3in FRAMED: 48,6x43,5cm/19,1x17,1in
Object Type: Framed pastel
Style: Portrait miniatures
Technique: pastel on vellum, laid by corners on mount
Inscription: -
Creator: Johann Heinrich Schmidt
To see other works by this artist click on the name above!
Creator Dates: 1749 Hildburghausen-1829 Dresden
Nationality: German
2-3 days door-to-door shipment, professionally packed by Mail Boxes Etc and shipped with DHL (calculated for US): 179,71 EUR + insurance 1,8% of item price
Shipping cost to other destinations (worldwide) on request
Shipping price may be reduced if you dispense with the frame


Cheaper alternative (may be further reduced if you dispense with the frame): professionally packed by Mail Boxes Etc and shipped with regular Austrian mail - upon request under office@wilnitsky.net (OBS: In this case maximal refunded insurance value is EUR 500 if shipping destination was the US. In Europe sometimes more, depending on destination.)
Click here for images free of watermark!
Click on images or on

to see larger pictures!