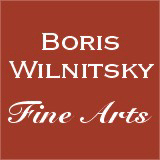 SALE!!! SAVE MONEY !! 1 EUR = 1 USD
# 41022
Benoit Charles Mitoire "Prince A. I. Chernyshyov", important Russian portrait, oil on canvas, ca.1820
22000 EUR
FINAL DISCOUNT PRICE= 22000 USD
( for EUR price see date rate )
Please note: Shipping and insurance costs are not included in this promotion, ONLY ITEM PRICES!
(please note additional 13% tax applies for transactions concluded within the European Union)
We are dealing here with portrait of a relatively young Russian gentleman, whose wish was to be portrayed in a Renaissance costume in the (fashionable in the 1st half of the 19th century) "Troubadour style" (CLICK HERE; for a similar Russian male portrait, see our image nr.28).

We refer to this getnleman as "Russian" because (as we will learn below) it is known that in 1801, at a young age of 19, the author of this wonderful portrait moved to Russia and remained there for nearly thirty years, until one or two years preceding his death.

Determined to find out the identity of the sitter (a smart-looking gentleman with dundreary whiskers, moustache and curly hair peeping out from under his beret), we have spent numerous hours studying various sources (including the Web). We went through several thousand (!) of Russian male portraits dating back to the 1st third of the 19th century. Among the countless faces that we have reviewed, we have discovered only one man, who shared the same physiognomic features with "our" sitter - the celebrated cavalry general of the Napoleonic Wars, aide-de-camp and proxy of Alexander I, Prince Alexander Ivanovich Chernyshyov (1786-1857); CLICK HERE; for a number of other portraits of the Prince, see our images nr.13-17).

All thus far known Chernyshyov's portraits present him in military uniform richly decorated with numerous awards. Up to 1818 (for his portrait by Thomas Lawrence, see our image nr.16), he was portrayed without a moustache (or, as in the earliest portrait of his, with a scarce one). In contrary, already in 1820 (see our image nr.13) he appears in portraits with "our" type of moustache and bears an overall strong resemblance to "our" sitter. We would like to note that, on the other hand, in 1820, Prince Chernyshyov was already 34. Neverteless it is highly possible that Chernyshyov continued to look young well into his mid-30s.

It is imaginable that at the time of his portrayal, the sitter expressed a wish to be depicted in the same look as the Polish King Stanislaus II August Poniatowski (the latter lived in Russia from 1755; he abdicated in 1797, in St. Petersburg), whose portrait was painted by renowned French female artist, Mme Vigee-Lebrun (see our image nr.29) in 1797. In the 1810/20s, this portrait could surely still be looked at in the Russian capital. It is also possible that Chernyshyov, then a bridegroom (preparing for either his first (1816) or second (1823) marriage; in sum, he was married three times! - see our image nr.18), intended to present his "Romeo"-portrait to his "Juliette".
The precise biographical information concerning the author of this wonderful portrait - Frenchman Benoit Charles Mitoire, working in St. Petersburg in the early 19th century - was thus far unavailable to art historians (French and Russian alike). We were, however, successful in filling this gap. In the (published in Paris, in 1866) book "Le Cimetiere du Sud (Montparnasse) par M. Pinard" (English: M. Pinard "South Cemetery (Montparnasse"), we have found the following entry (see our image nr.19): "Mitoire (Benoit-Charles) petit-fils de Carle Venloo; nee a Paris le 4 janvier 1782, morte 29 juin 1832".
In reality, we have established that he was not a grandson but a great-grandson of famous French 18th-century portraitist Charles-Andre (called Carle) van Loo (1705-1765; CLICK HERE). The latter had a daughter, Marie-Rosalie van Loo (1745-1762), who married certain Benoit Bron (1725-?). The couple had three children; among them - daughter Christine-Genevieve Bron (mother of "our" artist!), who married Charles Mitoire, "recette generale des Finances de Lyon, maître de Droit a Paris" (English: "Lyon treasury official and later, attorney at law in Paris").
What is more, we were able to locate a 1783 portrait showing his mother Christine-Genevieve Bron, "our" artist Benoit Charles Mitoire (in this portrait, he is one year old) and one of his elder siblings (see our images nr.21-22).
As we see, "our" artist was born either in Lyon or Paris. He had not followed in his father's footprints (probably due to disagreements with the latter) - a decision that at the age of 19 drove him away from his family and to move to distant Russia. Instead, he turned to profession of his famous grandfather and (according to the Russian sources) arrived to St. Petersburg in 1801. In 1806, he was granted a Russian citizenship, which was clearly given to him after he married a Russian woman "having decided to permanently stay in Russia" (A. I. Mueller "Foreign painters and sculptors", Moscow 1925, p.71).
On March 3, 1813, St. Petersburg Imperial Academy of Fine Art bestowed to Mitoire (for his "portrait after nature" presented for consideration) the rank of a "naznachenny" (appointed) artist. On September 1 of the same (1813) year, he became a Member of the Academy. In any case (according to Russian sources), the artist did not leave Russia "until 1830". As we see, he did indeed left Russia on his own will (for one can hardly imagine that his body was transferred from Russia to a cemetery in Paris), and that his departure resulted from either the death of or divorce from his wife…

Our images nr.23-24 offer biographical material from the Russian sources (also, CLICK HERE, for Mitoire's "Russian" works).
We would like to add that he was one of only few foreign artists working for the Russian Royal Family at that time (for example, see our images nr.25-27).
miokt03ap16
Condition: good; a few ninimal patches on verso (professionally restored dot-like holes; nothing visible on the front of painting)
Creation Year: ca 1820
Measurements: UNFRAMED:64,0x53,0cm/25,2x20,9in FRAMED: 83,5x72,5cm/32,9x28,5in
Object Type: Framed oil painting
Style: 19th century paintings
Technique: oil on canvas
Inscription: signed: Mitoire
Creator: Benoit Charles Mitoire
To see other works by this artist click on the name above!
Creator Dates: 1782 Lyon (Paris?)-1832 Paris
Nationality: French
SHIPPING COSTS UPON REQUEST:
office@wilnitsky.net
Click here for images free of watermark!
Click on images or on

to see larger pictures!