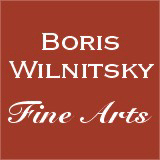 SALE!!! SAVE MONEY !! 1 EUR = 1 USD
# 41363
Borovikovsky? Lampi-junior? "Lady in park", superior quality miniature!!, 1800/05
14000 EUR
FINAL DISCOUNT PRICE= 14000 USD
( for EUR price see date rate )
Please note: Shipping and insurance costs are not included in this promotion, ONLY ITEM PRICES!
(please note additional 13% tax applies for transactions concluded within the European Union)
THE SELLER WILL COVER SHIPPING WITH REGULAR MAIL FOR THIS ITEM!

According to the sitter's dress and hairstyle, this miniature was executed between 1800 and 1805. It is a superior quality miniature portrait of a (still anonymous) highly aristocratic lady in park landscape. It demonstrates entire stylistic criteria of works by two great artists working in the Russian capital of aforementioned period:

- great portraitist (and miniaturist!), Vladimir Lukich Borovikovsky and
- the son of Austrian portrait painter (and, similarly, miniaturist!) Johann Baptist Lampi the Elder (1751-1830; he left Russia back in 1797) - Johann Baptist Lampi the Younger (or Lampi-junior). The latter's early works (among others, executed in St. Petersburg between 1795 and 1804) are virtually undistinguishable from the works of his father.

It is known that Borovikovsky was a pupil of Lampi-senior (our comparison images nr.9-17 and our web #40940 show the works of both the teacher and the pupil; see also our image nr.18). Lampi-senior, however could not be considered as the author of this portrait, for he was already long gone from Russia by the time of its execution (as it was already mentioned, he left the country in 1797).
We are hence left with two candidates for the authorship of this painting: Vladimir Lukich Borovikovsky and Johann Baptist Lampi the Younger (or Lampi-junior).

The famous Russian portraitist and historical painter Vladimir Lukich Borovikovski (1757 Mirgorod, Ukraine - 1825 St. Petersburg) was originally an officer. He quit in 1775, dedicated himself to painting pictures of saints, which he learned from his father, and painted iconostases in the churches of Mirgorod. Empress Catherine the Great viewed his works on her journey through Ukraine to Crimea and invited the artist to continue his education in St.Petersburg, where he turned to portrait painting, trained by Dimitri Levitski. But his very best teacher became Italian-Austrian portraitist Johann Baptist Lampi, who lived in St.Petersburg from 1790. In 1794 at Lampi's request Borovikovski was appointed a member of St.Petersburg Academy. He soon became a portrait painter of the royal family and Russian high aristocracy and remained in great demand as portraitist until his death in 1825.

Johann Baptist von Lampi the Younger (1775 Trient - 1837 Vienna) was the son of the famous Italo-Austrian portrait painter Johann Baptist Lampi the Elder. In 1783 he came with his father to Vienna, where he studied at the Academy under Fueger and Maurer from 1786. In 1794 he left the Academy to continue his education under his father. In 1795 Lampi the Younger followed his father to St.Petersburg, where, in the same year, he was appointed to Agrée ("naznachenny") of St. Petersburg Imperial Academy of Fine Arts for a copy after the portrait of A.I. Samoylov and, in 1797, to Academician (full member of the Academy) for a portrait of historical painter I.A. Akimov. In September 1804, together with his wife and daughter, Lampi the Younger left St. Petersburg and returned to Vienna. Since that time he (and his family) lived with his father and, like the latter, established himself as a very popular portraitist of the noble society. In 1813, he became a member of the Viennese Academy and, later, also an Honorary Citizen of the City of Vienna. Portraits by Johann Baptist von Lampi the Younger are often difficult to distinguish from those of his father.
Provenance: antique trade, Paris

mifeb0217
Condition: good; in original Empire frame; glass with minor chip in lower right corner
Creation Year: 1800/05
Measurements: UNFRAMED:7,4x6,2cm/2,9x2,4in FRAMED: 8,3x7,0cm/3,3x2,8in
Object Type: Framed miniature
Style: Portrait Miniatures
Technique: watercolor on ivory
Inscription: -
Creator:
To see other works by this artist click on the name above!
Creator Dates: -
Nationality: -
We will cover shipping with regular registered mail (delivery between 7-14 days) for this item.

OBS: Austrian mail refunds cases of loss or damage with maximum EUR 500 to the US (in Europe sometimes more, depending on destination).


Full insured 2-3 days DHL service available upon request and subject to extra charges: office@wilnitsky.net
Click here for images free of watermark!
Click on images or on

to see larger pictures!