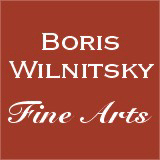 If you have a question about this item,
please contact us at: office@wilnitsky.net
# 41762
Lajos Bruck "Duke Maximilian Emanuel in Bavaria as Major of Cheavau-Legers", oil, 1876/80
Price: 3200 EUR
(please note additional 13% tax applies for transactions concluded within the European Union)
Our permanent adviser, well-known military historian and uniformologist Mr. Stanislav Lyulin informed us that the sitter - a relatively young military officer decorated with numerous awards - wears the uniform of a senior (major, lieutenant-colonel, colonel) officer of the Bavarian chevau-légers dating to the late 19th century. Some additional information relevant to the identity of the depicted gentleman can be drawn from study of his awards, especially the highest order of Austro-Hungarian Empire - Order of the Golden Fleece (see the sitter's neck badge). Our task was thus to examine the list of knights of this order. Our search criteria was rather specific: a person (Bavarian aristocrat or royalty), who in the last quarter of the 19th century, was already a bearer of this order, was nonetheless still young, and who in addition served as a senior officer in one of Bavarian chevau-léger regiments.
Only one person fits the above search criteria, namely Duke Maximilian Emanuel in Bavaria (1849-1893; see our image nr.8). He received the Order of the Golden Fleece in 1875. In the same (1875) year, he was promoted into a Rittmeister (captain) of the 1st Uhlan Regiment. In the next (1876) year, he was promoted into a Major and then transferred to the 1st Bavarian Chevau-léger regiment "Kaiser Nikolaus von Russland" as a squadron commander. In 1877, due to an illness, he left this regiment but was left attached to it "á la suite" (in other words, he was permitted to continue wearing his regimental).
The author of this painting - well-known Hungarian artist Lajos Bruck - was born in 1846 in Pápa, Hungary and died in 1910 in Budapest. From 1862 he attended Vienna Academy of Fine Arts, where he trained with Carl von Blaas, Eduard von Engerth and Peter Johann Nepomuk Geiger. From 1868, he traveled to Italy on academic scholarship. In 1869, he began studying at the Venetian Academy of Fine Arts under Pompeo Molmenti. His exhibition debut took place in 1873 at the Vienna World Exhibition, at which he showed some genre paintings with Italian and Hungarian folk scenes. In 1874, he went to study in Paris, studied there with his famous country-fellow, artist Mihály Munkácsy and regularly exhibited at the Salon. From 1877 his paintings were also repeatedly reproduced in esteemed international art journals. In 1886, he settled in London, where he became especially well known as a portraitist. In 1895, Bruck permanently settled in Budapest.
The portrait, which is presented here, was obviously executed in Paris, during one of Duke Maximilian Emanuel's visits to this city.

*We are very grateful to Mr. Lyulin for his help in our research.

Provenance: private collection, Bavaria / Germany

mijul15ap17
Condition: fairly good; in magnificent original gilt wood frame
Creation Year: 1876/80
Measurements:UNFRAMED:44,0x34,9cm/17,3x13,7in FRAMED: 67,0x56,0cm/26,4x22,0in
Object Type:Framed oil painting
Style: Portrait paintings
Technique: oil on panel (oval)
Inscription:signed: Bruck Lajos
Creator: Lajos Bruck
Creator Dates: 1846 Pápa-1910 Budapest
Nationality:Hungarian
SHIPPING COSTS UPON REQUEST:
office@wilnitsky.net
Click here for images free of watermark!
Click on images or on

to see larger pictures!