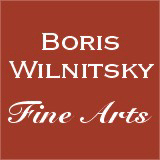 SALE!!! SAVE MONEY !! 1 EUR = 1 USD
# 42297
Wojciech Kossak "Charge of Polish Uhlans (Polish-Soviet War of 1919/21), oil study, 1920s
2500 EUR
FINAL DISCOUNT PRICE= 2500 USD
( for EUR price see date rate )
Please note: Shipping and insurance costs are not included in this promotion, ONLY ITEM PRICES!
(please note additional 13% tax applies for transactions concluded within the European Union)
This small oil study (likely - a preparatory work for a large-scale painting that was never completed) was acquired on March 3, 2018 at German auction house "Wendl". The auction house sale catalogue described it as "German school of the 2nd half of the 19th century /Study from the Prusso-French War (1870/71)". It appears clear and obvious that "Wendl" auctioneers lacked the knowledge of military uniforms: in the painting, one sees the (depicted) cavalrymen wearing not the model of 1870 uniform but the one from the late 1910s. Namely, they are wearing the uniform(s) of the Polish Uhlans from the Polish-Soviet War of 1919/1921 (CLICK HERE).
What is more is that this painting is not a work of a German artist of the 2nd half of 19th century, as advertised, but a typical (and entirely authentic - see our comparison images nr.7-9) creation by Poland's leading battle and horse painter of the early 20th century, Wojciech Kossak.
Baron Wojciech (Adalbert) von Kossak (1856 Paris - 1942 Krakow) was a son of the famous Polish horse painter Juliusz Kossak, nephew of another Polish horse painter Leon Kossak and a godchild of a famous French battle painter Horace Vernet (he complemented his own name with the first name of Vernet in his Parisian time). Kossak spent most of his childhood in Paris, and later, between 1863 and 1866, in Warsaw. At the age of fifteen he entered Krakower Art School (its director at the time was Ladislaus Luszczkiewicz). In 1872 he became a student at the Munich Academy, where his teachers were Alexander Wagner and Wilhelm Lindenschmit. In 1877 Kossak served in the Army in the Uhlan Regiment in Krakow, and this experience gave him a crucial impulse for his future activity as a military painter.
In 1878 he joined the Studio of L. Bonnat in Paris, and in the same year debuted in the Salon de Paris with a self-portrait in Uhlan uniform. In the next years he regularly participated in the Salon exhibitions. In 1882 he debuted in the exhibition at the Wiener Kuenslerhaus in Vienna.
In 1884 he returned to Krakow, where he opened his own Studio. There he painted many important battle paintings, part of which were bought by the Austrian Kaiser. In the next years he lived periodically in Lemberg (Lvov), Berlin, Paris, Warsaw, and Vienna, then again in Krakow, where he taught at the Art School. During the World War I Kossak served first as military artist in the Austrian Army, then in the Polish Legion. The artist was awarded with countless prizes, medals, and orders (in 1901 he became an "Officer of Legion d'Honneur").
Kossak's works are on view in the National Gallery in Warsaw and in other important Polish and international museums.
Our images nr.10-12 show several works of this artist that were offered at the international art auction market in the last years.

Provenance: auction house "Wendl", Rudolfstadt, Germany, March 3, 2018, lot 4448

mimar2918
Condition: good
Creation Year: 1920s
Measurements: UNFRAMED:21,0x29,0cm/8,3x11,4in FRAMED: 34,0x41,0cm/13,4x16,1in
Object Type: Framed oil painting
Style: Battle paintings
Technique: oil on paintboard
Inscription: -
Creator: Baron Wojciech von Kossak
To see other works by this artist click on the name above!
Creator Dates: 1856 Paris-1942 Krakow
Nationality: Polish
2-3 days door-to-door shipment, professionally packed by Mail Boxes Etc and shipped with DHL (calculated for US): 148,23 EUR + insurance 1,8% of item price
Shipping cost to other destinations (worldwide) on request
Shipping price may be reduced if you dispense with the frame


Cheaper alternative (may be further reduced if you dispense with the frame): professionally packed by Mail Boxes Etc and shipped with regular Austrian mail - upon request under office@wilnitsky.net (OBS: In this case maximal refunded insurance value is EUR 500 if shipping destination was the US. In Europe sometimes more, depending on destination.)
Click here for images free of watermark!
Click on images or on

to see larger pictures!